A research student is undertaking a study that will help tackle an increasingly prevalent problem among young children.
Lisa Kelly, who is currently undergoing a Master of Science by research at Athlone Institute of Technology, is investigating the Fundamental Movement Skill (FMS) proficiency among Irish primary school children with the intention of identifying the most problematic areas.
This research will be used to develop a tailored intervention program that will aim to improve overall levels of FMS proficiency.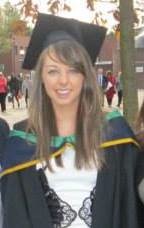 Lisa, who has an honors degree in Athletic Therapy and Training from Dublin City University, believes that increasing FMS proficiency levels among primary school children will increase their habitual physical activity levels and subsequently help to reduce health issues associated with inactivity. However, in recent years the lifestyle of children is not conducive to acquiring these skills and as a result, FMS is an area that needs to be addressed.
"FMS are the basic building blocks of more complex movement skills. They include activities such as running, jumping, hopping, skipping, balancing, throwing, and catching. A common belief is that these skills are naturally acquired as children grow and develop, however this is not the case. Children need to be taught how to perform the movements correctly and given plenty of opportunities to practice in order to reach a mature level", explained Lisa who is from Borrisokane, Co Tipperary.
The critical age period for the acquisition of such skills is said to be between the ages of 5 and 8 years old with most children having the potential to master such skills by the age of 6 years old.
However, the level of the problem is highlighted by recent studies which illustrated that FMS proficiency levels amongst Irish first-year students (13 years old), revealed that only 11% achieved mastery in a battery test of 9 FMS (O Brien et al. 2015). Along with this only 12% of Irish first year student are achieving the recommended levels of daily physical and so it is essential that primary schools are targeted to try and reverse these trends.
The attraction of video games means that many children aren't getting the opportunity to develop these skills and Lisa points out that the consequences can be severe.
"If children are not provided the opportunity to master the basic FMS at a young age, they will lack the competence and subsequently the confidence to take part in physical activity as they grow older.
"They will be more likely to avoid activities that will expose them to 'public failure' and thus opt for a more sedentary lifestyle giving rise to associated health problems such as obesity, depression, chronic heart disease, higher risk of certain cancers and osteoarthritis to name a few, which are costing the Irish state close to €437 million each year.
"FMS form the foundation for a physically active lifestyle. A physically active lifestyle enhances overall health, physically, socially and psychologically. FMS therefore are extremely important, number one to reverse current unhealthy trends and number two, to save future generations from the detrimental effects of sedentary behaviours", she added.
The study will see Lisa test the proficiency levels of over 300 primary school students from Senior Infants to Fifth Class in 16 FMS and is expected to be completed by autumn 2017.
These tests will be divided into three domains, namely locomotor (methods of moving from one point to another), object control skills (the use of hands or other implement to control objects e.g. balls) and stability skills (static and dynamic balance). In addition to the Y balance test which objectively measures dynamic balance, 15 skills will be subjectively assessed meaning the prime focus is on 'how' the skill is being performed as opposed to the outcome of the skill. Each skill is scored based on the presence or absence of certain performance criteria. For example, when assessing the skill of running, the performance criteria are as follows:
(1) Arms move in opposition to legs with elbows bent
(2) Brief period where both feet are off the surface
(3) Narrow foot placement landing on heel or toe (not flat footed)
(4) Non-support leg bent about 90 degrees so foot is close to buttocks
Each child is given a demonstration of the skill by the investigator and is then asked to perform a practice trial followed by two test trials. The two test trials are scored by giving a mark of 1 for each performance criteria successfully completed or a 0 for each unsuccessful or absent performance criteria. Marks are added up for the two trials of each skill to give individual skill scores. This will allow us to identify skills which are most problematic for the sample tested and will in turn direct the development of future intervention programmes with particular emphasis on the weakest areas.