Over the past number of years, studies in Athletic Therapy in Ireland have resulted in the discipline being very highly regarded.
Courses in Dublin City University, Athlone IT and Carlow IT have all contributed to the growing reputation of Athletic Therapy, and as a consequence they are now among the most highly sought after.
A measure of the regard in which these courses are now being held is that they are now becoming popular with overseas students.
An example of this is that three university students from North America have recently arrived in Ireland for a one-semester placement as they sought to benefit from the expertise and approach of lecturers on this side of the Atlantic.
Harley Thwaites from Vancouver is currently studying in Athlone IT, Craig Leahy recently returned to New York after being based in Carlow IT, while Jennifer Hussey is spending a semester in DCU.
All three have reported it to be a very positive experience in which they have not only learned a lot about their chosen course, but also mixed in a new social setting and immersed themselves in a new culture.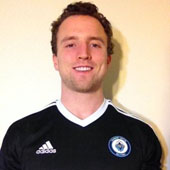 HARLEY THWAITES is in no doubt that it was a very worthwhile decision. The 24-year-old is in third year of his Athletic Therapy degree in the University of Winnipeg who arrived in Ireland on January 3 and will be here until May.
"It is a little bit different from what we do but it is a very interesting course. There is a lot of focus on areas that we don't cover so it is nice to pick up something different.
"We get to do a lot of practicums and the main thing is to get hours under your belt, and also to experience different sports. As a result we get to see different types of injuries", explained Harley, who believes others will take the opportunity in the future.
"I would certainly recommend it to other students as it is very practical and you learn a lot", he explained and added that he hoped to return to Ireland when he is qualified.
Meanwhile, CRAIG LEAHY from Saranac Lake, New York, has recently returned to the University of New Hampshire after spending almost four months at Carlow IT.
Craig got the opportunity to travel due to a long-standing relationship between UNH and Carlow IT and jumped at the chance to take part in the progamme. His stint lasted from September 4 to December 20, and he too found it extremely beneficial, both academically and personally.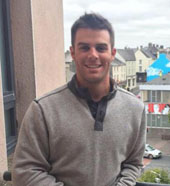 "The cultural shock was not too overwhelming, in fact the first few weeks I recall finding so many similarities between Ireland and the US, but once I started to branch out more, travel and meet people I quickly discovered so many wonderful cultural differences.
"The education I received at Carlow IT was incredible, the students and staff were so welcoming and energised. I was able to learn new techniques and even show off a few US ones", explained Craig who pointed out that one of the big advantages was experience of manual therapies.
"The Irish system focused so much on manual therapies and healing with the hands, something that is not very prevalent Stateside. This has given me a unique advantage with my clinical work. Athletes respond much better to hands on than machine modalities", he added and continued to identify one drawback.
"The Irish students weren't required to take discovery or inquiry courses, so they focused exclusively on their subjects, which to be honest I didn't like", he explained but overall felt it was a very positive experience that more people should explore.
"Travel and study while you are young and still impressionable, it will truly change your perspectives and alter everything you once thought you knew and replace it with a new understanding of the incredible world around you", added Craig.
Another student to make the trip across the Atlantic is JENNIFER HUSSEY who originally from Indianapolis, Indiana, and currently studying at Purdue University.
Jennifer arrived at Dublin City University on January 27 and will spend four months in Ireland, having jumped at the chance to experience something new.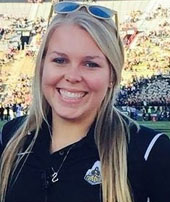 "I decided to study in Ireland because my athletic training programme director, Larry Leverenz, worked with the DCU athletic training faculty to set up this study abroad programme.
"When I heard about it, I thought it sounded like a great opportunity to not only explore a new area I have never been and learn the different techniques used by athletic trainers and physiotherapists here. I also had a few friends back at home that had visited Ireland and told me how wonderful and friendly all the people were here", she explained and pointed out that it has been a very worthwhile decision to come to Ireland.
"I very much find the subjects useful. It is nice to also see a different perspective on various techniques. I have also gotten the chance to learn a substantial more about massage, trigger points, and myofascial release", added Jennifer who revealed that she has noticed some differences between college life at home and in Ireland.
"I would say college life is different at home compared to here. Students rarely go home when at college back in the States, but I have noticed that it is very common to go home on the weekends here. In addition, collegiate athletics are a major part of the college life back at home", explained Jennifer who added that it is something she would recommend to others.
"I definitely would recommend other students to visit Ireland. I have had an amazing experience so far, from the people to the city and all of the other gorgeous landscape the country has to offer. I am in love with the cliffs and the gorgeous greenery here in Ireland", she added.