An ARTI member has once again highlighted the exceptional standards of practitioners in Ireland after successfully passing the exams that entitle him to practice in America.
Paddy McEvoy became the first ARTI member to pass the exams since the establishment of the Mutual Recognition Arrangement which enables him to complete the Board of Certification (BOC) exam and become a member of the National Athletic Trainers of America (NATA).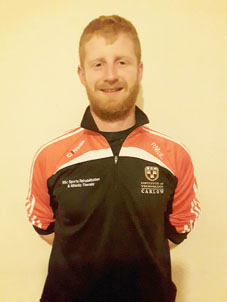 Naturally, Paddy is thrilled with the achievement and he is certainly not going to let the hard work go to waste as he has already finalized his plan to further his studies in the USA.
In August, the 23-year-old from Ballyragget, Co Kilkenny, will commence a Masters in Health and Exercise Science and graduate assistantship in Ithaca College in upstate New York which he believes will be a huge boost to his career.
"I took the exam in November and found out the results in December so I was delighted that it all worked out. It was very difficult because the exam is a lot different to the ARTI exams due to the fact that it is all theory and there is more focus on general medical issues.
"I suppose the knowledge base is broader and you also have a lot more in terms of the legal side of things", added Paddy who graduated from Carlow IT in 2015.
Having decided over the summer while working in a clinic that he wanted to go for the exam, Paddy was virtually in full-time preparation from September to November and based himself in Carlow IT.
Having spent four months at Ithaca College in early 2015 as part of his degree, Paddy's contacts there enabled him to get advice and direction on many topics for the exam. He admits that this support base was a vital factor in getting through the exam.
"I really enjoyed my spell at Ithaca as it is recognised as one of the foremost colleges for Athletic Training in the USA. I made a lot of contacts and while I was studying, if there was anything I wasn't sure of there was somebody available to help me so I think that support base as essential for me", he explained.
Passing the exams gave Paddy the opportunity not only to study at Ithaca but also gain some valuable work experience with the college teams.
"Doing a Masters is very expensive but fortunately I will also be employed by the college for about 20/25 hours per week so that means I don't have to worry about tuition fees and I will also get hands-on experience with a team.
"I have a choice of field hockey, track and field or rowing, so hopefully I will get hockey as I would prefer work with a contact sport", explained Paddy who is looking forward to the new venture.
"I never had any intentions of going back to America once I had done my four month placement as I would consider myself more of a home bird. However, when the opportunity came up for 12 months I decided to go for it. At the end I will have a degree and a Masters along with practical experience so that should make me a lot more employable", he added and pointed out that he expects many others to follow his example in taking the exam.
"I think the fact that somebody has taken the exam and passed it shows that it is possible and already I have had other people on to me looking for a bit of advice", continued Paddy who will be strengthening the links between the colleges during his stint.
"From my experience, there is a good relationship between the Irish and USA colleges and the fact the Americans are so keen to have Irish students which shows the quality of the courses we have here in Carlow IT, Athlone IT and DCU.", he concluded.